Zensual Dance Academy is more than a dance academy. It's a place where you transform your body and your mind. A place where you'll push yourself, conquer your fears and discover there really is a sexy woman inside you. Each instructor is high-trained but more importantly highly human.  We're your cheerleaders, your support group, your sisters in sexy, your friends and your coaches.  We're here to believe in you, challenge you and most importantly have a ton of fun.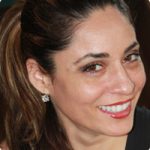 Clarissa
Founder and lead instructor, Clarissa Pierro has been teaching in the field of foxiness since 2003. Clarissa's love of movement and authentic self-expression has led her to dedicate herself to bringing unique dance-inspired fitness and personal growth programs to as many women as possible. After a successful career in the corporate world, she embarked upon an entrepreneurial venture as a businesswoman, speaker, and dance instructor.
She has taught classes across the country and has worked with many notable groups including Women's Health Magazine, Southlake Chamber of Commerce, Jr. League, Mocha Moms, and the Dallas-based Kidd Kraddick Morning Show.
As a Licensee, Master Instructor and Lead Trainer with The Art of Exotic Dancing for Everyday Women until 2007, Clarissa honed her skills both in the classroom and as a business woman. Under Clarissa's direction, her class and event offerings garnered attention from D Magazine, Modern Luxury Magazine, Dallas Observer and their Best of 2004, NBC-Houston, WFAA's Youngstreet and many news outlets. In 2005, Clarissa was featured in an instructional video "Chair Dancing" which is currently sold on Amazon.
With a substantial sports and fitness background, including a Personal Trainer Certification from The Cooper Institute, her expertise has broadened from physical fitness to overall health and well-being for women in all areas of their lives. Through Zensual Dance Fitness™, she continues to work on behalf of empowering women through development of strong mind, body and spirit.
Meagan
Meagan is a ball of energy. She fell in love with Pole Fitness first as a student and then as an instructor. Her athletic ability made her a natural, and she quickly mastered all the moves. In December 2010 she began instructing. Meagan's humble approach keeps her classes packed and her students coming back for more.
She's encouraging in the most genuine way and loves sharing her passion with new students. Look out for Meagan performing around town or rockin' it at pole fitness competitions. In her non-teaching times, Meagan is active in her church and busy advancing her business career.
Missy
A former cheerleader, dancer and choreographer, Missy currently works as a professional choreographer.
Her clients have included professional singers, bands and dance troupes. Missy hails from Ursuline Academy in Dallas and kept up her team-building skills set over the years.
Truly a Jill of all trades, Missy is also a sought after esthetician and is an office rock star with both MoveStudio and Zensual Dance Fitness.
Laura
Laura splits her time in two very different professions. She's a scientist and a motivational dance instructor. She began instructing in 2004 and quickly established a following.
After a brief absence to pursue her Master's Degree, Laura is officially back. And she brought her following with her. You can find her as the lead in Chair Dance Fitness. Her classes are always fun,engaging and encouraging. If we were in high school, she'd be a shoe-in for Most Popular.
Stacey
As a young girl, Stacey studied Ballet under Denise Brown, a Master Instructor in Dallas, captivating this graceful ballerina for 10 years. Dance never left her and she vows to keep dancing her way through life. These days, you may find Stacey on the ballroom dance floor, kicking it up with her husband. With a 1st place finish at the San Antonio Invitational Dance Tournament in 2008, Stacey brings a hip shimmy of Dancing with the Stars to Zensual.
Her Master's Degree in Sociology doesn't hurt either. With a unique ability to gently guide women through sensual movement, Stacey provides a safe, free, and sensual environment and a boost of self-confidence in every class.
Sarah
Finance professional by day and pole dancing instructor by night, Sarah is a warm-hearted woman who has always had a love for dance. As a member of the drill team in high school, she learned the art of choreography, which she loves to incorporate into her classes and pass on to her students.
What began with a curiosity about this unorthodox form of fitness, quickly became a love for the constant challenge of the sport and the self-confidence it gives her. Sarah strives to impart the same feeling in each and every one of her students by creating a fun and encouraging atmosphere in all her classes.
Alexis
Alexis discovered pole dance in 2009 in an attempt to lose weight and build muscle, while indulging herself in the art of exotic dance. Several years later and 100 pounds lighter, Alexis has no plans to slow down. She strives to set an example among other women who doubt their ability to be strong, sexy, confident dancers. Alexis immerses herself in creative expression on a daily basis, from her full time job in graphic design, to painting large-scale still life works of art in her home studio. In October 2012, she competed in the Amateur division of Miss Texas Pole Star where she won the Miss Flexy award. She is an avid animal lover, activist and vegan.
Arnette
Bio coming soon!
Rachel
Bio coming soon!
Adria
Adria has loved to dance as long as she can remember. She started taking classes when she was seven years old, including tap, ballet, jazz and hip hop. When Adria was twelve, she told her mom she wanted to be a hair stylist when she grew up… and that's exactly what she did. She didn't realize that dance was an option for a career, but kept on dancing and taking classes anyway on her own time. She soon found Zumba and immediately became certified and began to teach. That opened a lot of doors to other dance opportunities and now Adria is so happy to be instructing not only Zumba and hip hop, but pole and chair fitness.
Mandy
Bio coming soon!
Coming soon: Jasmine, Carla and Behija